RECOGNITION OF PRIOR LEARNING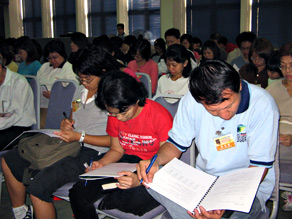 Recognition of Prior Learning (RPL) recognizes the knowledge and skill base of applicants according to
Formal training
Informal training (work-experience)
Life experience
It is possible that some people applying to enter one of our courses may already be qualified or "competent" in one or more subject areas, having formally done a subject or subjects elsewhere. Similarly, you may feel that you have sufficient life experiences which already make you qualified or competent in a particular subject area. If you can demonstrate and prove your achievement, knowledge or skill, you may be given credit for it.

Logos ILC recognizes student Transcripts, Qualifications and Statements of Attainment issued by other Colleges and thereby acknowledges its mutual recognition obligations. This is the most straight-forward and simple of credit transfers - merely send us a copy of your transcript or qualifications and we can work out a program of study for you that allows for as much transfer credit as possible. We also recognize knowledge and skills acquired through time and experience, and this is where most of the information below will be of help to you in your application for credit transfer to our college. When you have gathered your information, write it out and email it to us and we can then calculate Transfer credit for you.
If you wish to apply for RPL, you must apply through the college office. A fee is charged for each application (see Fee Schedule). You may be given a list of criteria to match your achievement, knowledge or skills against in seeking RPL for a certain subject or subjects.

The applicant needs to be aware, in cases of proving knoweldge and skills gained through time and experience, that the onus is on him or her to provide the relevant evidence, and to present a convincing case that the necessary subject skills have already been acquired. If you can do this, Transfer Credit and an exemption from that subject may be granted.
Further details follow:
RECOGNITION OF PRIOR LEARNING (RPL) INSTRUCTIONS


Formal Learning - from formal courses at Private College, University, Bible College, Industry Courses, In-Service Training, etc.
Life Experience - from church involvement, community involvement, volunteer work, etc.
Work Experience - from what you have learned through working in other organizations, including business, professional, educational, government, community, etc.


FORMAL LEARNING

The subjects or modules you have studied should have been assessed formally by examinations and/or assignments. The content should correspond with that of a module offered by the College, or the various Competencies that underpin our courses. The number of credits given by that college or institution toward that subject should be equal to or exceed the number of credits allocated to it by this College.

Before you decide to make an application for RPL, you will first need to read the Module Aims and Outcomes pertaining to a certain subject area, or examine the requirements of the underpinning Competencies. Compare these descriptions with the content of the subjects you have completed. In some cases, two or more subjects may still satisfy the requirements of one College subject, or vice-versa.

List the details on the appropriate form.

Provide an official transcript or record from the college or institution in which you received your academic transcript.



LIFE EXPERIENCE and WORK EXPERIENCE

To receive RPL using this approach, you need to give sufficient information to prove that you have achieved the aims, objectives or outcomes (see Module Aims and Outcomes, or underpinning Competencies) of each module for which you are applying.

On the relevant form (contact us by email) list the information requested and the details of how you believe you have gained the necessary knowledge and skills in the subject in which you are applying for RPL. Use a separate sheet for each module you are applying for.

Your work or life skills may come from church or secular work experience (full-time, part-time, or voluntary). Include any additional experience that you think might be relevant (for example, involvement in church ministry, or community organizations). Indicate official positions held. State the period of time during which you were involved in each activity. Give names, addresses and telephone numbers of people who can verify your statements.


By using this step-by-step process to gather and collate the evidence required, you will attain one of the following three outcomes:
RPL is achieved.
Further evidence is required.
Further learning is required and therefore RPL is not granted.
Examples of evidence you could provide:

As a general guide, examples of evidence might include documents like:
Administration documents and programs
Negotiation documents
Budgets
Position descriptions
Business documents/correspondence
Qualifications/awards
Business Plans
Reports
Company policy documents and procedures
Research documentation
Diary entries
Resume/Curriculum Vitae
Log books
Training Programs
Meetings, agendas, minutes
References/Referees
Third party confirmation/reports
Official transcripts
Provision of names and addresses for authentication purposes
This list is a guide only. You can add other examples to support your application.

Print Friendly