CLASS LECTURES
CLASS LECTURES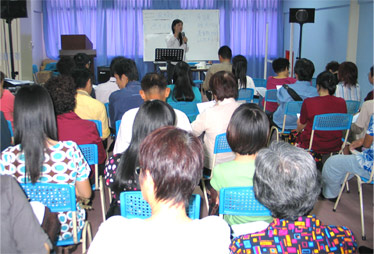 Classes are held in all Logos Training Centres aoocridng to location on an annual basis. This will not affect Independent Study Students, who undertake self study at a distance, although in some cases they are welcome to join in with local Training Centre classes if in their locality. Students who are interested in attending local Training Centre Classes should contact the Logos Registrar for information on when and where the classes will be held.
Classes are held at various Training Centre locations including Malaysia, the Philippines, Cambodia, Sri Lanka, South Africa, etc, though mainly throughout Asia. Sometimes Logos staff also conduct classes, for Bachelor and Master Students, at at other Colleges including Alpha Omega International College and Asia Pacific Theological Seminary. Permission, however, would need to be granted by the relevant college for a Logos student to attend such classes, and extra fees may apply.
Each Training Centre may be engaged in teaching, on an annual basis, a list of subjects not undertaken by other Training Centres in any one year. Some training centres also have 2 lots of classes, one for broader Christian Education, and another for more specialized courses such as the training of pastors and leaders. Again, please contact the Registrar for information on where classes may be held, when, and what subjects are being taught.
Also be aware tha the mode of study may vary from Centre to Centre; some doing regular weekly night classes, some doing Sunda y classes, some doing full time on campus, some doing Intensive mode over a few days, some doing a tutorial approach in which students work on their studies following a key lecture, and the like.
We pray for blessing and succes in undertaking your studies. Please comtact us if you need any help.
NOTE: for First AG Leadership College Training Centre in Kuala Lumpur, Malaysia (a Logos College Training Centre) - this centre offers classes locally at 1stAG Church KL for interested students. Some students/trainess find classes a useful supplement for subjects delivered at a distance, though are not compulsory for studies undertaken in Distance Delivery mode. Other Training Centres conduct and timetable their own lecture schedules if pastors/leaders desire to hold classes in order to assist Training. They are purely optional.
At First AG Leadership College, CLASSES are generally conducted over 15 weeks each semester, or about 30 weeks a year, on a part-time or casual basis. Most of these classes are audio-recorded and uploaded on our website to supplement our ONLINE courses (see menu on Podcasts). Not all class lectures are uploaded to the website due to their changing nature (eg, Ethics, or Leadership), or due to the personal testimonies of staff or students in explaining the content. In addition, WEEKEND INTENSIVES are occasionally offered in order to supplement the content teaching.
Please contact the Registrar for further information at registrar@logoscollege.org






Print Friendly